Competing with 113 other beautiful ladies from across the globe, in the beauty pageant, Suman Rao feels highly confident and sure, that the crown will come to India this year.
The beauty pageant will be held at Excel Arena, London, on December 14, where, Vanessa Ponce of Mexico will crown the successor of her title at the end of the pageant. With all our fingers crossed and best wishes for Suman Rao, her motive to join the beauty pageant was to bring the blue crown back home, says the 20 yrs old energetic beauty from Rajasthan.




Suman Rao was born on 23 November 1998 in Aaidana village, near Udaipur, Rajasthan. Her father, Ratan Singh Rao, is a jeweler, while mother Sushila Kunwar Rao is a homemaker. She has two brothers, Jitendra and Chirag. Her family shifted to Mumbai when she was a year old. She did her schooling at Mahatma School of Academics and Sports in Navi Mumbai and is pursuing an accountancy course from the University of Mumbai. She is also a well trained Kathak dancer.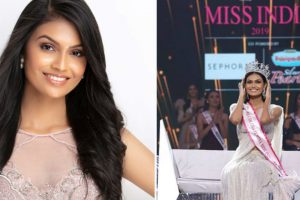 Suman Rao, the 20 yrs old, has never traveled out of India. It is her first international trip to the pageant. She mentions that her desire to walk the ramp and model has strengthened after having participated in this contest and is a potential new entrant for modeling and Bollywood.
She is not just participating in Ms. World beauty pageant but many others. This C.A. aspirant will be competing in various other rounds comprising Miss World Beauty with a Purpose, Miss World Talent, Miss World Multi-Media Award, Miss World Head to Head Challenge and Miss World Dances of the World.




Suman, not justs thanks the platform for such a bright scope but also speaks about her transition has an individual and is proud to shoulder such eminent responsibility for the pride of the country. Also, she releases that, by winning and even by participating she brings in lot of revolution and becomes an inspiration for several others. Our Best wishes to Suman Rao. India is eagerly waiting to see her crowned.