Art enhances one's independence sense and creative imagination, it is also am activity through which one can transfused their own emotions to others. Not only by visually entertaining viewers, art has played a vital role in protesting against injustice, many times in the history of human civilization.




Art has always been open for female artists to highlight social issues through their expression for art. Indian women artists, in particular, have emphasised gender issues and discrimination in the form of painting, sculptures and installations since pre-independence times. And despite the decades that have transpired since, most of the issues are still prevalent in today's society.
India has given rise to many splendid artists, some of whom have created works that have fetched millions at international auctions. Some of the most successful and Promethean artists from India are women.It's their unique works which is what they are known for. Here presenting the famous contemporary women artists in India.
• Bharti Kher
Bharti was born in 1969 in London, England. From 1987-88 she studied at Middlesex Polytechnic, Cat Hill, London, UK. She graduated with a B.F.A in painting from Newcastle Polytechnic in 1991. At 23, she moved to New Delhi in India, where she lives and works today. She is married to Indian contemporary artist Subodh Gupta and has 2 children.
Bhakti Kher has worked in variety of media creating paintings, sculptures, installations and text. There's primary material is manufactured versions of traditional Indian BINDI. Throughout her career Kher kept some repeating pattern in her paintings from her students years late 1980s to the early 1990s. Her work displays contemporary life, fondness towards human drama, as well as intrinsic love. She is also an expert in creating wild and eccentric resin-cast sculptures embroidered with Bindis.
Kher has exhibited extensively since 1993. Her work has been shown at the All India Fine Arts and Crafts Society (AIFACS), the Isabella Stewart Gardener Museum, the Jackson Shainman Gallery, the Frieder Museum, the Rockbund Art Museum and the Vancouver Art Gallery.
Her famous works include 'The Skin speaks a Language Not it's won't (2006), ' An Absence of an assignable cause' (2007), ' Off center', 'Train'D To Kill1′ and many more.
• Amrita Shergil
Popular known as India's Frida Kahlo, Amrita Shergil was born on 30 January 1913, in Budapest, Hungary. Her family faces financial problems in Hungary, hence moved to Summer Hill, Shimla, India, and She began learning piano and violin.
Shergil has been called " one of the greatest avant-garde women artists of the early 20th century" and "pioneer" in modern Indian art. Drawn towards painting since a young age, She started getting formal lessons in the art, at the age of eight. She first gained recognition at the age of 19, for her oil painting titled Young Girls (1932).




Shergil travelled throughout her life to various countries including Turkey, France and India, deriving heavily from precolonial Indian art styles and it's current culture. She is considered an important painter of 20th century India, whose legacy stands on a level with that of the pioneers from the Bengal Renaissance. She was also an avid reader and a pianist. Her paintings are among the most expensive by Indian women painters today, although few acknowledged her work when she was alive. Her works displayed the poor condition of the underprivileged and women in the country.
' Bride's toilet's, ' Two elephants', ' Haldi grinders', ' Shringaar' and other paintings brought renaissance in the field of modern art.
• Meera Mukherjee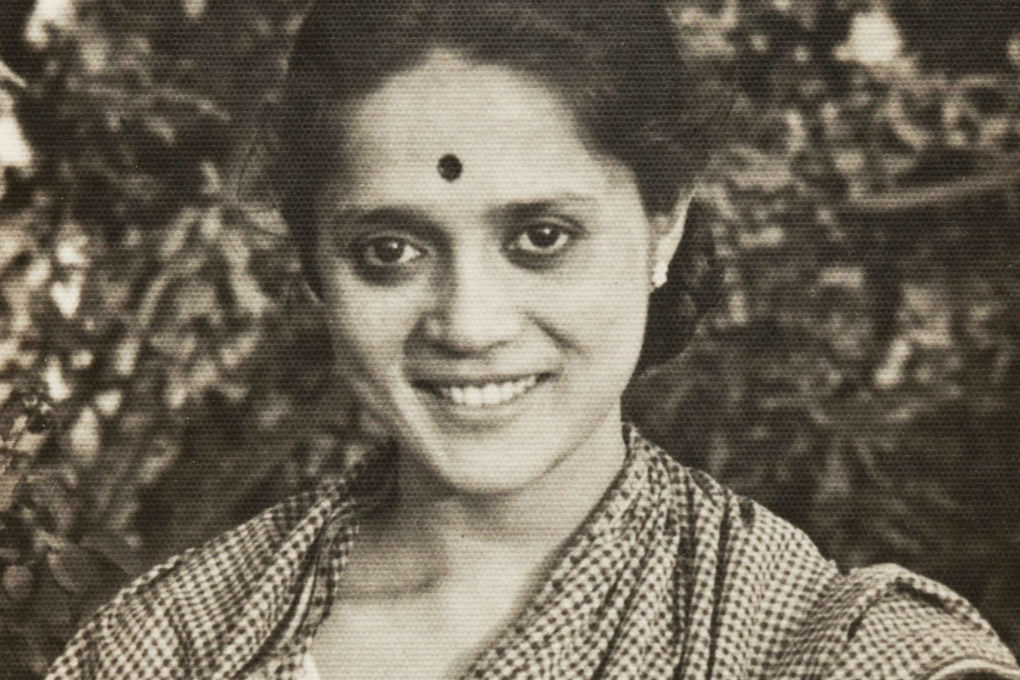 Meera Mukherjee, born in Kolkata to Dwijendramohan Mukherjee and Binapani Drvi in 1923, had her initial training in Arts at the Indian Society of Oriental Art of Abanindranath Tagore where she stayed till her marriage in 1941. The marriage was short lives and Mukherjee, after the divorce, resume her art studies by joining the Government College of Art and Craft, Kolkata and the Delhi Polytechnic, Delhi and secured diploma in painting, graphics and sculpture .
Meera was an Indian sculpture and writer, known for bringing modernity to the ancient Bengali sculpting art. She is known to have used bronze casting techniques, improving the Dhokra method employing Lost-wax casting, which she learnt during her training days of the Bastar sculpting tradition of Chhattisgarh.
AWARDS AND HONOURS
• Mukherjee received the Press Award for the Master craftsman in 1968, from the President of India.
• She received Excellence Award from Kolkata Ladies study group in 1976
• In 1981, she got Abanindra Prize from the Government of West Bengal.
• She held the fellowship from the Ministry of Culture from 1984 to 1986.
• In 1992, the Government of India awarded her the civilian honour of Padma Shri.
• Arpita Singh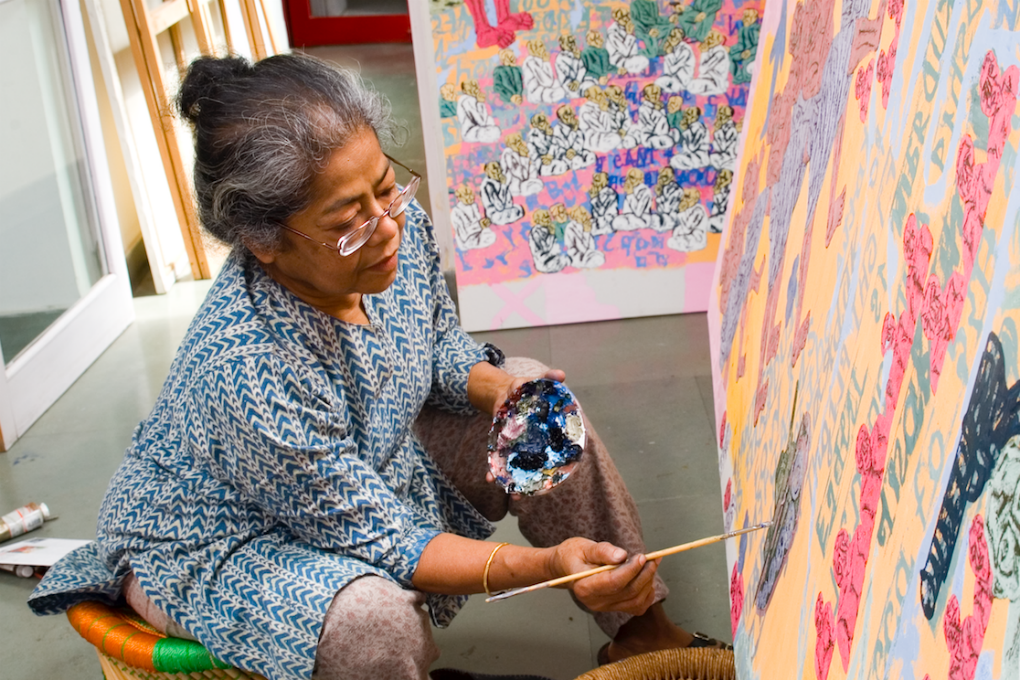 Arpita Singh (Born as Arpita Dutta) is an Indian artist, who was born in 1937 at Baranagar in Kolkata, West Bengal, India.
Arpita left Kolkatta with her mother and brother in 1946, a year before India got its Independence from the British rule. In 1962, she married fellow artist Paramjit Singh and they have a daughter, artist Anjum Singh. Currently she lives in Nizamuddin East, New Delhi.




Arpita attended the Delhi Polytechnic in New Delhi from 1954-59 and graduated with a Diploma in Fine Arts.
Known to be a figurative artist and a modernist, her canvases have both a story line and a carnival of images in a curiously subversive manner. Her artistic approach can be described as an expedition without destination. Her work reflects her background. She brings her inner vision of emotions to the art inspired by her own background and what she sees around the society that mainly affects women. Her works also include traditional Indian art forms and aesthetics, like miniaturist painting and different forms of folk art, employing them in her work regularly.
AWARDS
Arpita Singh has exhibited all over the world, at both individual and group exhibits. She also won a number of awards for her work.
• 2014: Fellowship of Lalit Kala Akademi
• 2011: Padma Bhushan
• 1998-99: Kalidas Samman, Bhopal
• 1991: Parishad Samman, Sahitya Kala Parishad, New Delhi
EXHIBITIONS
• 2019
Submergence: In the midst of here and there, at KNMA, Saket, Delhi.
• 2018
Tying down time all, Talwar Gallery, New York
• 2017
Tying down time, Talwar Gallery, New York
• 2006
Picture Postcard 2003-2006, Vadehra Art Gallery, New Delhi
• 2003
Memory Jars, Bose Pacia Modern, New York
• 1994
Drawing 94, Gallery Escape, New Delhi