Seema Rao is a story of a very special woman and life partner. At the age of 18, Seema Rao got married with Major Deepak Rao, who encouraged her at every step of the way, being her steppingstone and support at junction.




Seema Rao, known as the India's Wonder Woman, is India's first woman commando trainer, have trained SPECIAL FORCES OF INDIA for 18years without compensation. Her work was partnered by Major Deepak Rao, who received Presidential rank honour from the Indian President for pioneering close quarter battle training for 15000 soldiers in Indian army.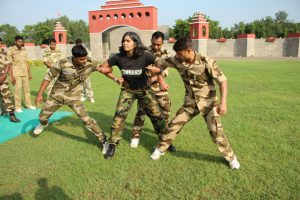 EDUCATION
Seema grew up committed to the cause of serving her country.
• She is certified as a doctor in conventional medicine, also has an MBA in crisis management.
• She earned her Para wings by skydiving in Indian Air Force course.
• She us a combat shooting instructor, an Army mountaineering student HMI medallist, and an 8th degree
Blackbelt in military martial arts.
• She is one of a handful of instructors in the world, authorized to teach JEET KUNE DO.
• She has been a Mrs India World beauty pageant finalist.
AWARDS
Home minister Chidambaram approved Rao and Major Deepak Rao as Resource to Home Ministry to train all state police in CQB without compensation. Seema Rao is the recipient of many awards:
• World Peace Award by World Peace Congress.
• Awarded by the Prime Minister of Malaysia for contribution of the country in 2008.
• US President's Volunteer service Award.
• Three Army Chief Citations.
• Home Minister of India Letter of Commendation in 2009 placing on record the selfless National service in the field of close quarters battle training.
• 1000 felicitations from Indian government.
• Dr. Seema Rao was rated No.6 in the 2019 Forbes India W- Power Trailblazer list.
• Dr. Seema Rao received India's highest civilian honour for women NARI SHAKTI PURASKAR from his Excellency the President of India in 2019.




Dr. Seema Rao is a remarkable story of persistence and strength. She is a true inspiration for all.