With the trend of biopics and strange story lines dictating the Bollywood, how could the 2 super stars of Bollywood Kangana and Priyanka be untouched with Era of biopics. With Priyanka having done Mary Kom before it would be her second inning to play a biopic, this time based on the most controversial and wild Maa Anand Sheela. On the other hand least can't be said of the Queen from the hills Kangana Ranaut.




Kangana Ranaut has been lately quite well known for her skill as a director from Manikarnika movie. She has always been open to experimenting when it comes to her roles in the hindi film industry. She is quite outspoken and at times highly controversial very much like her next reel character based on Jayalalitha the tamil political.
Kangana, is a versatile Bollywood actress, who has already proved her mettle in the film industry. From 'Queen', 'Tanu Weds Manu' and 'Manikarnika: The Queen of Jhansi' are the movies, which feature Kangana's enchanting beauty and mind-boggling acting skills. She is the winner of numerous awards, including three National Film Awards and four Filmfare Awards. Now, once again she is going to mesmerise her fans with her upcoming biopic 'Thalaivi' based on the life and journey of late Tamil Nadu Chief Minister J Jayalalithaa. The makers of 'Thalaivi' released the first look poster and teaser, which star Kangana in an unrecognisable look as the political leader. Film trade analyst Taran Adarsh shared the poster and teaser on Twitter. "First look poster… Kangana Ranaut in #Jayalalitha biopic… Titled #Thalaivi.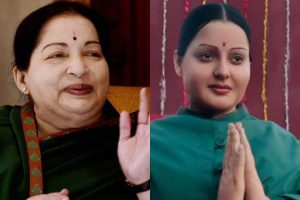 Desi Girl Priyanka Chopra, married to a Singing global icon has become a global icon today. She has been enjoying the best of both worlds with multiple projects in hand in both Hollywood and Bollywood. Now she is on the quest to become a globally known Actress with her biopic on Maa Anand Sheela. The actress had recently revealed on a chat show that she was developing a biopic on Ma Anand Sheela, controversial Indian godman Rajneesh Osho's closest aide. However, she had refrained from giving out further details on the same.Recently, opening up about the same, Priyanka reportedly revealed that the project happened to her by destiny rather than design, at a time when she was exploring powerful scripts. Maa Anand Sheela as the world knows from her Netflix documentary is a highly controversial character famous worldwide for her and the Osho guru Bhawan for their preaching on the orientation of human life style. The Osho community was initially established in Pune, India and their on expanded globally. They preached free sex, no family bonding, fight therapy, laughter therapy and much more making human primitive again and taking back to the nomadic lifestyle.
Many rich people came flocking to the Osho community for this freedom to live like a animal again and not be bothered about the society norms and responsibilities of raising kids and this community also a different style of raising kids in a collective manner by parents on rotational duties to the entire lot of kids.
This kind of community was on one side abolished by several but also liked by many nomadic mindsets and were ready to donate in millions making Osho one of the richest Gurus in the 80s.
Best of the luck to both the Bollywood superstars for such exponential and challenging role.