India has been taking steps to crush gender barriers in each and every field. When women focused on what they wanted to achieve, they ultimately surpassed their own expectations. In February 2016, President Pranab Mukherjee announced that women will finally be allowed to take up combat roles in all sections of the Indian forces, signalling a radical move toward gender parity in one of the world's most Male-dominated professions.




All wings of the Indian Armed Forces allow women in combat roles and combat supervisors roles, except Indian Army and Special Forces of India. Indian Air Force had 13.09% and 8.5%, Indian Navy 6% and 2.8% women, and Indian Army 3.80% and 3%in December 2018 and December 2014 respectively.
On the occasion of International Women's Day, get to know about some Indian Women who are fighting for and protecting the nation, without caring about their own and family.
Here is a list of such women who created history in the fields of Army, Navy and Air force:
1. AVANI CHATURVEDI
Born on 27 October 1993, Flight Lieutenant Avani Chaturvedi is an Indian pilot from Rewa district, Madhya Pradesh. Her father is a superintendent engineer in Water Resource Department of M.P. government and her mother is a home maker. Her elder brother is also an officer in Army. Avanti likes to play chess, table tennis and to do sketching and painting.
In 2016 June, she became a fighter pilot, after completing one year of rigorous training at Air Force Academy at Dundigal, Hyderabad.




She declared as the first combat pilot along with two of her cohorts, Mohana Singh Jitarwal and Bhawana Kanth. The trio was inducted into the Indian Air Force fighter squadron in June 2016. On 7 October 2018, she was honoured with the Doctorate Degree from Banasthali Vidyapeeth.
In 2018, she became the first Indian woman pilot to take a solo flight in a MIG-21. Also, she was promoted to the rank of Flight Lieutenant.
2. BHAWANA KANTH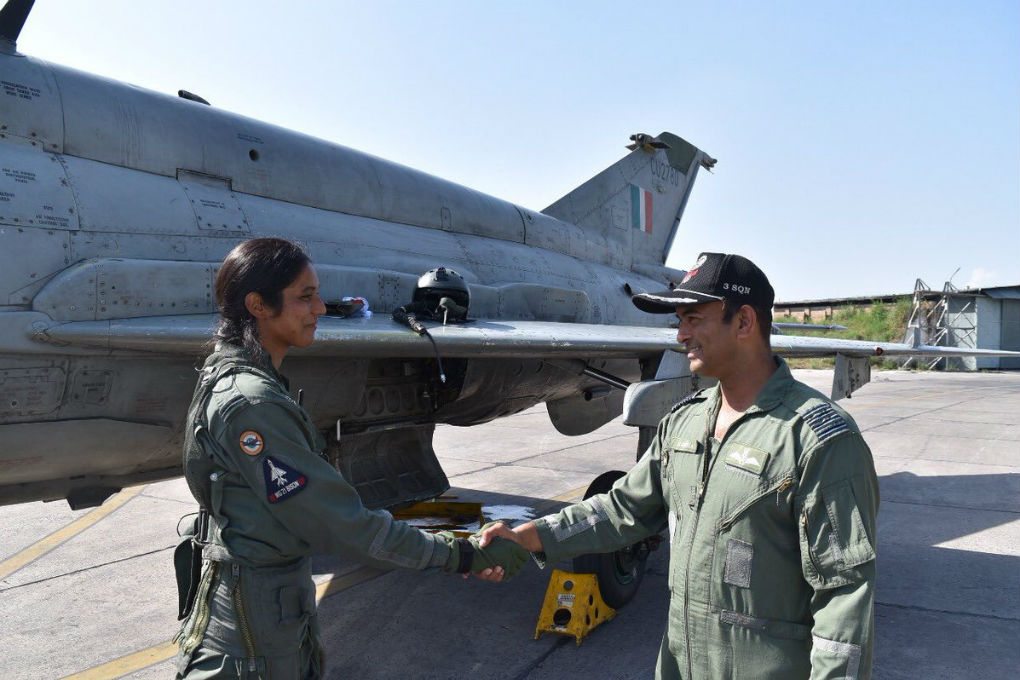 Born on 1 December 1992 in Darbhanga, Bihar, Bhawana Kanth is one of the first female fighter pilots of India. Her father Tej Narayan Kanth is an electrical engineer in Indian Oil Corporation and mother Radha Kanth is a home maker.
Bhawana completed her schooling from DAV Public School in Barauni Refinery. She graduated in 2014 from BMS College of Engineering, Bengaluru and was recruited for IT giant Tata Consultancy Services.
Bhawana always dreamt of flying planes. She took the Air Force Common Admission Test and was selected to be commissioned into the Air Force. As a part of her Stage 1 training, she joined the fight stream.
Bhawana flies Hawk advanced jet trainers and it has been the plan to move her and the other two members of her cohort to MIG21 Bison Squadron. She made the so flight of MIG 21 from Ambala Air Force Station at around 1400 hours. She also tried some modelling assignments and appeared in print advertisements.
In May 2019, she became the first female fighter pilot in India to qualify to undertake combat missions.
3. PUNITA ARORA
Born into a Punjabi family from Lahore, Punita Arora is a former 3-star Flag Officer of the Indian Navy and the Indian Army. When she was only one year old, her family moved to India during partition and got settled in Saharanpur, Uttar Pradesh.




In 11th standard while getting admitted to Government school for boys she decided to take Science as a career. She joined Armed Forces Medical College, Pune in 1963, which was the second batch of the AFMC and she turned out to be the topper of the batch.
Punita was commissioned on January 1968. She took the charge of commandant of Armed Forces Medical College in 2004 thereafter becoming the first woman officer to command the medical college. Before that she was coordinating Medical Research of the armed forces at the Army headquarters as additional director general of Armed Forces Medical Services. She moved from the Army to the Navy as the AFMS has a common pool which allows officers to migrate from one service to another depending on the requirement.
She has been awarded with 15 medals in her 36 years of career in Indian Armed Forces.
4. PRIYA JHINGAN
The daughter of a police officer Priya Jhingan, initially wanted to join the Indian Police service but decided to write to the then army chief Sunith Francis Rodrigues to all allow her to join the army. Her request was accepted in 1992 and after her training at the Officers Training Academy in Chennai. She started her OTA training from 21 September 1992 along with other 24 lady cadets.
Priya has always been a string advocate for women joining the army and defended that right over the controversial suicide of Lieutenant Sushmita Chakravarty in which the then Vice-Chief Lt Gen S Pattabhiraman had to apologize for an insensitive remark about women in the army.
In 2013, she was one of the participants of Khatron Ke Khiladi season 1. In 2p13, she joined Lawrence School, Sanawar as an English teacher and a House Mistress. Priya is married to Manoj Malhotra, who returned as a Lieutenant Colonel from the army and runs an adventure sports company named PepTurf. The couple live in Salon, Himachal Pradesh and have one son.
Priya was cadet number 001 at the Officers Training Academy in Chennai.
5. SHIVANGI
Sub Lieutenant Shivangi Hari Bhushan Singh was born on 15th march 1995, in the Fatehabad village of Muzaffarpur district of Bihar, India. She is an Indian pilot serving in the Indian Navy. She became the first female Indian Naval Pilot on 2nd December 2019.
Shivangi hails from a humble agricultural background. Her father Hari Bhushan Singh is the principal of girls only government school constructed on land donated by Shivangi's great grandfather, who donated it to enable people to overcome the conservative abhorrence of educating girls. Her mother Priyanka is a housewife.




She obtained a degree in Mechanical Engineering from Sikkim Manipal University of Technology and subsequently studied at the Malaviya National Institute of Technology.She is aged 25 and doesn't keep a surname.
Shivangi is slated to subsequently become an operational pilot on Maritime Reconnaissance (MR) aircraft after completing her training as of December 2019.