On Monday 24th February, at 11:40 am the President of United States of America Donald Trump reached India along with his wife Melania Trump, daughter Ivanka Trump and son-in-law Jared Kushner and prominent American delegates. PM Modi welcomes them at Sardar Vallabhbhai Patel International Airport (AMD).
At 12:15 pm US President visited historic Sabarmati Ashram of Mahatma Gandhi. Mr.Trump toured Gandhi's modest house, removing their shoes before entering as all visitors do. Trump also sat on the floor and tries spinning cotton on a charkha.




At 1:05pm PM Modi and President Trump addressed a gathering of over 1 lakh people during 'Namaste Trump' event in India's largest cricket stadium, Motera Stadium, Ahmedabad. The event started with the national Anthems of both the nations. PM Modi starts welcoming speech with chants of Bharat Mata ki jai. Trump thanks India for grand welcome. Trump called Modi an exceptional leader who works night and day for his country. "America loves India, America respects India and America will always be faithful and loyal friends to the Indian people," Trump continued.Then at 3:30 pm Donald Trump and his family emplane for Agra and reach there at 4:14 pm. At Agra Airport they were welcomed by Yogi Adityanath, the CM of Uttar Pradesh, where Agra is Located. Mr. Trump received an exuberant welcome, which include dancers who dressed as peacock and horses.
At 5:15 pm they visit the 17th century marble mausoleum TAJ MAHAL, built by Mughal emperor Shah Jahan in memory of his queen, Mumtaz Mahal. Mr. Trump and his wife holding hands of each other while walking in Taj Mahal. Mr. Trump wrote at the visitors log book at the Taj Mahal, " timeless testament to rich beauty of Indian Culture".Ivanka also spends quality time with husband Jared at Taj Mahal.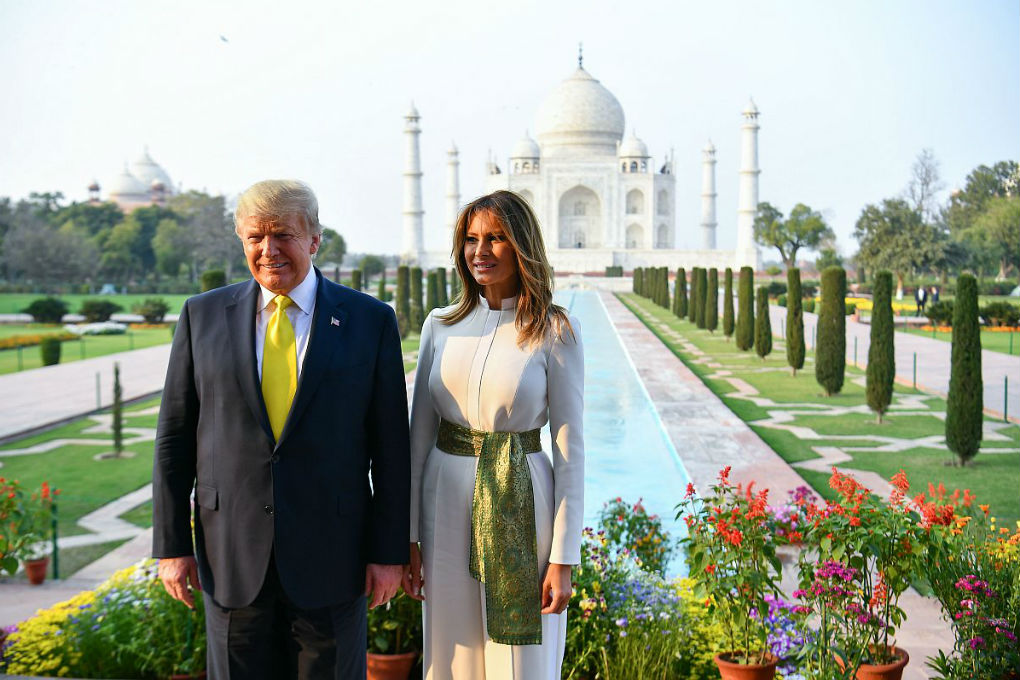 At 6:45 pm they emplane for Delhi, and reached at the Palam airport Delhi at 7:30 pm. The US first couple come down the steps of Air Force one and shake hands with the welcomes committee. They spent the night at the ITC Maurya. All roads leading to ITC Maurya had been fortified with snipers, elite SWAT commandos and sharp shooters on high rise buildings. The entry and exit to the hotel is being strictly monitored by security agencies and it has not taken any booking till Trump is in Delhi. Hundreds of high-definition CCTV cameras with night vision were installed across the Sardar Patel Marg where hotel ITC Maurya is located to monitor the situation round-the-clock.
On 25th February, Tuesday, the US President was accorded a ceremonial welcome at the capital's Rashtrapati Bhavan. President Ram Nath Kovind and PM Modi welcomed Trump and his lady Melania Trump at the Bhavan. The US President also received a tri-services guard of honour at the presidential palace. In the afternoon, Trump attended certain private events at the US Embassy, including a roundtable with industry representatives.




On the same day, Modi and Trump sent a clear message of growing congruence of interests between India and the US on major geopolitical developments in the region and beyond, particularly when China has been expanding its military and economic clout. Both talks on a wide variety of bilateral and regional issues including trade and investment, defences and security, counter-terrorism, H1B, energy security, religious freedom, proposed peace deal with Taliban in Afghanistan and situation in the Indo- Pacific, according to Indian and US officials.
Melania interact with students at a Delhi government school and witness various activities as part of the happiness curriculum. She spent over an hour here.
US President Donald Trump and First Lady Melania Trump leave after attending dinner banquet hosted by the President Ram Nath Kovind at Rashtrapati Bhavan. Menu of the dinner banquet was in the honours of US President Donald Trump. The menu includes vegetarian and Non-vegetarian food.




So many famous personalities of India were present at the dinner which includes, CM BS Yediyurappa, Telangana CM K.Chandrashekar Rao, Assam CM Sarbananda Sonowal, Haryana CM Manohar lal Khattar, music composer AR Rahman, chef Vikas Khanna.
At 10:30 pm, US President Donald Trump and his family depart from Delhi following the conclusion of their two-day visit to India.
Lavish Arrangement were made for Donald Trump's visit to India. The Grand Presidential Suite in which they stay costs Rs. 8lakh per night. The suite had been stocked with Trump's favourite items- Diet Coke and Cherry Vanilla ice-cream. A private chef was assigned to Trump and his wife, who cooked as per their choice.
Authorities in Ahmedabad expected to spent around 800 million to 850 million Indian rupees on preparations for the visits by the US president.




An estimate of Rs. 130 crore, spent on preparation for US President visit in India.
US PRESIDENT STRUGGLES WITH PRONUNCIATION WHILE GIVING SPEECH IN MOTERA STADIUM IN AHMEDABAD. He pronounces as follow:
• Sachin Tendulkar: sooch, sutch, soo-chin tendul-Kerr.
• Virat Kohli: V-rot, V-rut
• Ahmedabad: ahba-bard
• Chaiwala: cheewalla
• Swami Vivekananda: Swami Vivekamundan.
At the end of the visit, Mr. And Mrs. Trump thanks India for their warm welcome and love.